Iowa's largest wide format reprographic team has provided your best value in printing and distribution services since 1952 (1940 in Dubuque). Specializing in architectural and engineering documents, specifications and color renderings with a variety of finishing options. We are available 24 hours a day, weekends and holidays on request. No job too big or small. Print direct from your desktop, closest to where delivery is required, with our 6 locations and ReproMax's 350+ offices around the world. Our constant investment in the latest digital equipment means we can surpass the norm in both speed and quality. From creation to archiving we help you manage and communicate your intellectual assets. Let Rapids take the burden of document management and distribution off your shoulders.
Rapids Reproductions is a top supplier of wide format products and services helping Architects, Engineers, Manufacturers, Surveyors and Graphic Artists and one of the largest dealers of wide format reprographic equipment and supplies in the Midwest, earning HP Graphic Specialist dealer status. Our Reprographic services have grown from mostly blueprints to digital document printing and distribution plus large format color images of all types including signs and prints on canvas. The experienced senior staff has an average of over 20 years with the company. Our Online Store, Planroom, Equipment Repair and Facilities Management program now take us beyond our local offices to serve our customers and their partners where ever they need us. A complete source for your design communications whether it's onsite, offsite or online.
A Brief History
Rapids Reproductions began in 1952 as Standard Blueprint of Iowa. Founded by Dan Avery with help from the Swanson brothers from Omaha, the company grew quickly in the 60′s with the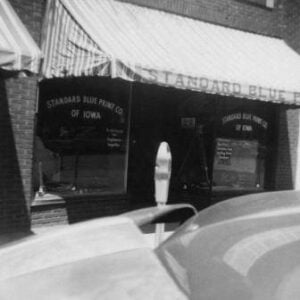 addition of a salesman from Minneapolis named Ralph S. Wasik. After Mr. Avery's passing Ralph became Manager of the company. In 1974 Ralph purchased the company from Standard Blueprint of Omaha and it became Rapids Reproductions. Under Ralph's stewardship the company prospered and began the company's culture of accepting new technology by becoming CAD system dealers in 1984 and adding color copying shortly after. After Ralph's retirement his son Ronald took over and continued the adoption of leading edge technology by becoming one of the first dealers of wide format xerographic copiers which would eventually replace blueline copiers. With the help of a new Sales Manager named Gerald Mohwinkle, Rapid's also began expanding with the opening of an office in Davenport. Ralph's other son Ralph W. Wasik succeeded Ronald as President in 1992 and the expansion really began with the purchase of Acme Reproductions in Waterloo and the opening of our Urbandale office. The internet, digital drawings and large format color printers continued changing the way our clients worked. Ralph Jr. kept the company current by investing in large format digital color and becoming part of the ReproMax digital network. In 2009 Ralph Jr. appointed Gerald Mohwinkle as President. A veteran of the industry having worked for Bruining (Oce) as well as over 20 years with Rapids, he continues the progress by moving our Cedar Rapids headquarters to larger and more modern facilities in the fall of 2009 and the acquisition of Technigraphics and Tri-State Blueprint and Framing in 2010. In 2012 we invested in a flat bed printer which prints on almost any substrate such as wood, metal and even plexiglass. In 2013 we enter the 3D printing world by becoming 3D Systems dealers and providing our customers with 3D printing services. We added Markforged 3D printers shortly after. In 2017 we invested in a router/cutter for all the custom sign requests we get. 2019 we bought a 64″ vinyl cutter which does highly accurate cutting for all sorts of window, wall, sign and vehicle graphics.