Description
Drawing storage – including analog-to-digital document conversion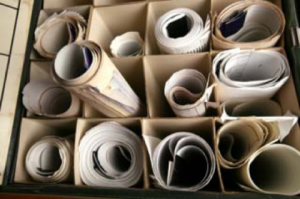 Easily convert stored paper drawings and aperture card filing systems into a digital document storage.
Scan– Drawings are digitized with scanning technology ensuring top-quality images even with the most difficult originals.
Store– Released drawings, regardless of origin, are indexed and imported into digital document files..
Access– Multiple locations gain secure access to the released images via an easily searchable interface.
Print– Print only the documents you need when you need them on affordable wide format printers.
The search for drawings which could take hours or days can now take minutes. Engineers are ensured that they have the correct released version and no longer have to spend extensive time searching or waiting for the correct version that may have been lost or misfiled.
With the images stored in a central location, all appropriate individuals have secure access to the information. Customers, suppliers and employees can access information when they need it and print it at their location.
Scanning
Monochrome or color, large or small we can scan your hardcopy for archiving, copying or digital manipulation. We can handle anything from a snap shot to 36″ wide by any reasonable length with a scanning resolution from 72 DPI to1200 DPI. Mixed size documents are not a problem and we will scan to virtually any format you need. We can even scan large format mounted originals.
Our image capture services utilize a combination of interactive and automated scanning procedures, providing the best balance of quality, speed and cost. OCR – Optical Copy Recognition is available as well.
For your color prints we have special color scanners and software that enable us to reproduce your original's quality or even enhance it.
Archiving
Rapids can help you convert paper-based filing systems to highly efficient and cost effective electronic document management systems. No more misplaced or torn drawings. Prints from digital files will be first generation not second, third or fourth. We can also simply send you the files to archive yourselves.
Once your documents are scanned you will benefit from
Easy disaster recovery
Organized file retrieval and accessibility
On-demand printing
Space savings
Image manipulation using software tools