Rapids Reproductions and 3D You Today……
Deliver a 3D Birthday Present to a Make A Wish Boy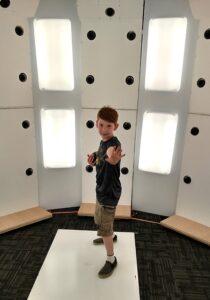 Rapids Reproductions hosted a Technology Day this summer with a focus on 3D Printing.  Rapids invited their client, '3D You Today' along with their 3D Camera imager that is shaped much like an igloo.  When you enter the enclosure, you strike a pose and 70 cameras instantly capture the photos enabling the creation of your 3D image.  The image is then processed and a high-quality full-color 3D rendering is printed back at their shop.
With a history of  Rapids Reproductions supporting  the  Make A Wish foundation with their effort to enable  children with severe illnesses to see their wishes come true,   Rapids Reproductions  invited Mason, a Make A Wish child, to be Photographed by '3D You Today'.  (Pre-birth, Mason was diagnosed with a serious heart defect.  Shortly after birth Mason received a heart transplant.  He continues to improve with the monthly visits and care of the University of Iowa Hospitals and Clinics.) Mason is a big Hawkeye Fan and aspiring Golfer, and chose to come to the Technology Day with his football and Hawkeye Jersey.  (see photos)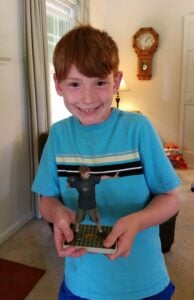 On August 8th, Mason's 8th Birthday, Mary White, a Make A Wish Volunteer, presented Mason with his 3D Statue created by 3D You Today and Rapids Reproductions Mason and family were very impressed with the high-quality color image of Mason.
Soon Mason and Family will be heading out on their Make a Wish trip to Florida and Disney World.
You may click Here to visit 3D You Today and see all of their other great work.
Much appreciation and Thanks to Mason and his Family,
Make A Wish for making wishes come true,
And 3D You Today for helping by making an awesome Birthday Gift that Mason and his family may cherish forever.