Breathe Fresh New Life Into Your Workplace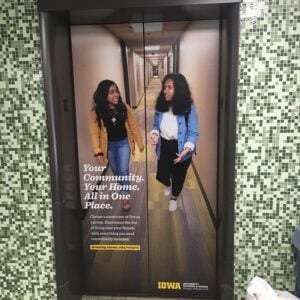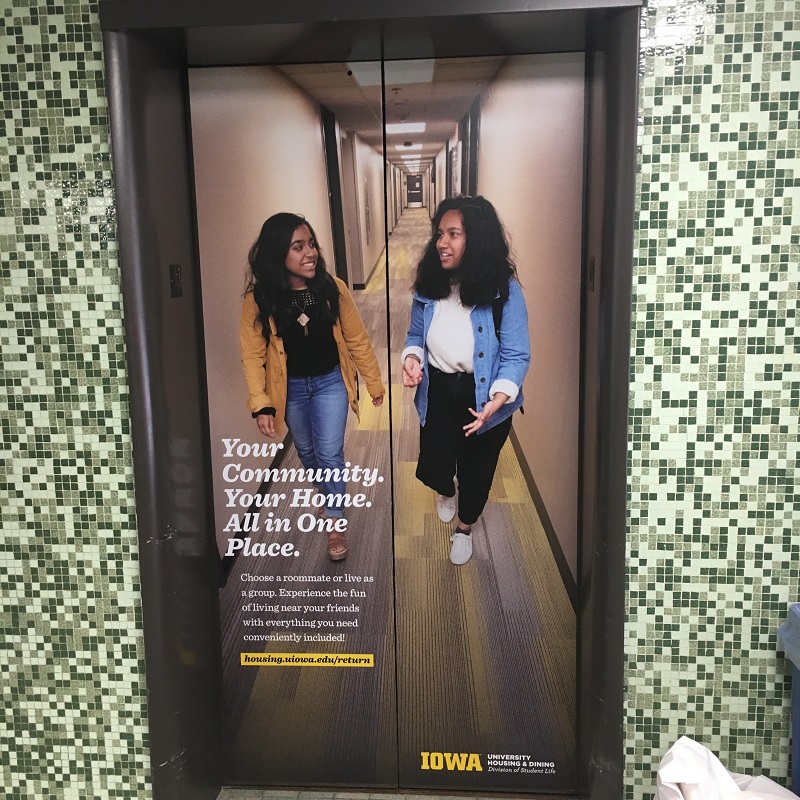 The workplace. It's the visible engine of your business. It's where you tell customers who you are, what you do and what you can do for them. Nothing says blah and instills apprehension into customers' minds like a stale workplace. For workers, drab workplaces can hurt office productivity and harm staff morale.
In short, like a college graduate on a job interview, your workplace has to be dressed to impress. You want your office to be alive like Google, not sleeping like Dunder-Mifflin of "The Office" infamy.
Remember, you don't want your office to look like a generic, dry and plain location devoid of personality.
The exciting, positive news for your company's bottom line, breathing new life into your work places doesn't have to blow up the year's operating budget. Rapids Reproductions' Environmental Graphic Design can enliven your workplace in many striking ways.
Your office is your story. We can help you tell it in exciting ways that are uniquely you.
Custom Decals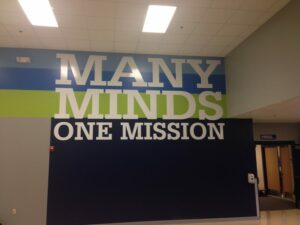 This cost-effective office sprucer is much more than decoration. Decals attract attention and can create impulse sales for customers visiting your lobby or showroom. Custom Decals are easy to install and have long lasting power with proper care. Plus, you can print decals on both sides.
Potential customers will see your message whether they're coming or going.
Decals' greatest strength is their ability to liven up almost any public location in an office. From elevators to doorways to windows, decals send a vibrant, lively message.
Custom Office Signage
If you think about it, what signs do we remember? Not the drab, poorly lit signs, but the bold, attention-grabbing wow signs that leave us intrigued and wanting to know more about the company, organization or product they advertise. We deliver custom office signage designed to leave an impact on customers, employees and colleagues.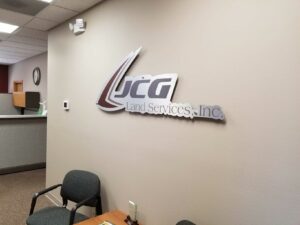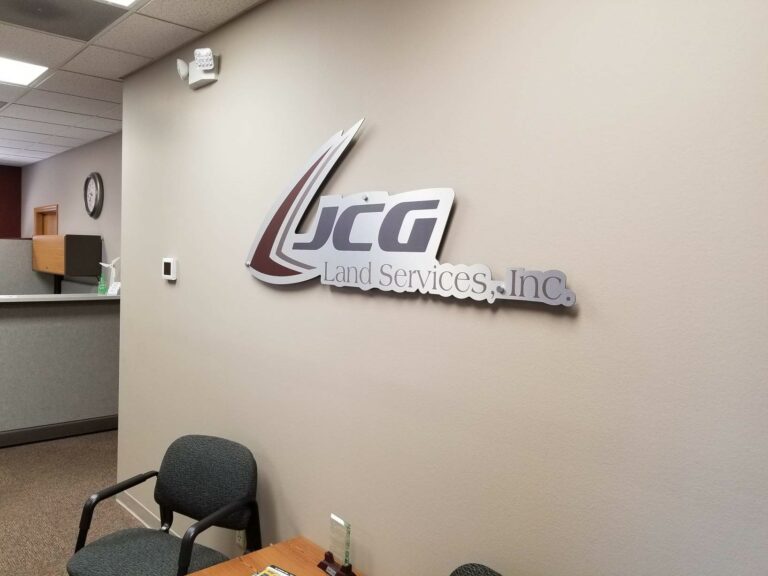 For customers, custom signage can be the hook that leads them into your office. For employees, custom office signage helps keep offices organized, clean and serving as a pleasant work environment.
From cool and unique art prints to sidewalk decals to ceiling banners, there is no limit to the means and places you can display custom office signage that is uniquely you.
Let's look at the places where custom office signage can re-energize your office.
Reception Areas:

The perfect location to make a lasting first impression with a powerful sign, or the ideal location to announce the new look of a renovation office space.

Common Areas:

Break rooms can become relaxing work escapes and community centers, while extending your culture and values.

Office Work Spaces:

The most important location in the office to reinforce your mission, custom signage can re-affirm positive themes and help create a common purpose for your team.

Walls:

An ideal canvas to create custom temporary or long-term visual displays.

Glass: While adding privacy to enclosed conference rooms or spaces, glass signage offers style and sophistication.
Elevators:

Who says the every-day ride upstairs has to be repetitive?
Custom Banners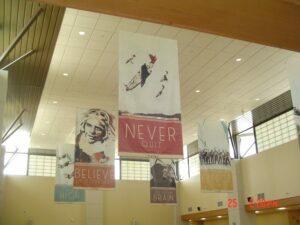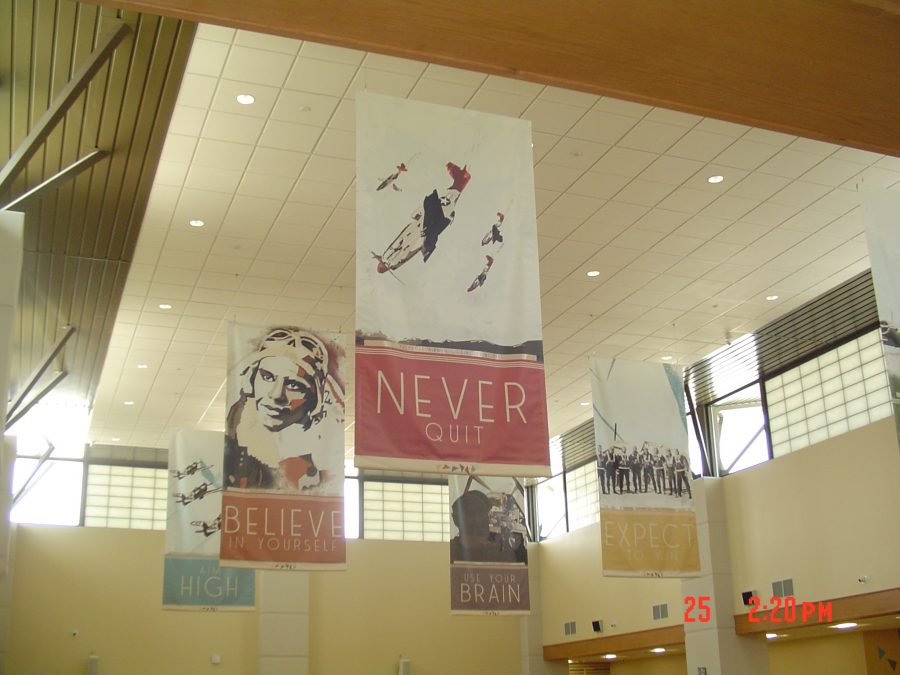 A traffic-stopping means of announcing upcoming events, campaigns or promotions, they can immediately make people knowledgable of current business promotions, sales or celebrations.
How Interior Signage Breathes New Life Into Offices
Raises Brand Awareness:

In business, first impressions are everything, and lobby signs instantly announce your brand. Visually appealing signs in your company colors can distinguish your company from competitors.

Display Information:

Whether a huge sale, a promotional message or important customer and employee information, interior signage delivers important timely information for customers and employees.

Promote A Seasonal Feel:

Interior signage helps customers and employees tell the difference between Valentine's Day and Christmas, holiday sales and back-to-school sales.

Give Directions:

Whether guests are looking for the restroom, returns department or conference room, ample directional signage allows visitors to easily find their way around your facility. This reduces visitor frustration and increases the likelihood they will make another purchase.

Display Key Messages:

Interior signage boldly and proudly announces who you are and what you believe in. Be sure to display the values that define you and what you stand for prominently in your office.

Enhance The Atmosphere:

Captivating interior signage prevents your office from promoting a detached or flat atmosphere and working environment.
All Signs Point To A Lively, Exciting Office
Attractive, effective and eye-grabbing interior office signage can establish your brand, deliver your company's message, give customers direction, and promote your seasonal items.
Most importantly, Rapids Reproductions' interior signage and messaging prevents your office from ever being called the dreaded B word: Boring.