Charting a Course: Rapids 3D Printing for the Visually Impaired
3D printing has come a long way since the 1980's when it first made an appearance. In the 21st century, advancements for this 3D rendering technique have enabled us to create anything from metal mechanical parts to plastic prototyping tools –quicker and more efficiently than what could be done in the past. Whether it's a final product or a prototype to get your idea on its way, there is a printer and material suited to your project. For many when they think of 3D printing, the uses are limited to these ideas of mechanical parts and prototyping in the industrial realm.
This past month at Rapids, our 3D Printing team was shown a new level of importance on how 3D printing can impact others. 3D printing is normally thought of as prototyping mechanical parts, and over the years, a majority of the projects we have produced have fit into that realm. That was until a special project came into the shop that changed our outlook on how 3D printing can be useful in less commercial ways. It can even serve a purpose to the community by bringing a new spin on an old tool, and to those who need it most.
For some, the final product takes on a whole new meaning.
The Iowa Educational Services for the Blind and Visually Impaired is one of the few of its kind, established in Vinton, Iowa. The school's mission is a simple goal but a crucial undertaking by its staff and sponsors:
"Our mission is to enable Iowa's students who are blind or visually impaired to function as independently as possible in all aspects of life by providing appropriate educational opportunities, resources,
and support services."
The school's undertaking often comes with finding creative and new solutions to otherwise difficult problems. the Iowa Educational Services for the Blind and Visually Impaired has found ways to implement newer technology to ensure students may do their work, and understand concepts in class no different than any other student.
It started with finding a technique that works.
One of the unique tools used to allow students the same tools in mathematics is the Draftsman Board, created by the American Printing House for the Blind. The idea behind this board is simple. When a student draws a line on the board's surface, it creates a raised mark which can then be traced in order to see what was drawn. The surface of the Draftsman Board works by applying a vinyl sheet on top of the rubber surface of the board, which then responds to the pressure of drawing over it. Check it out here!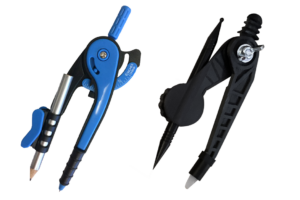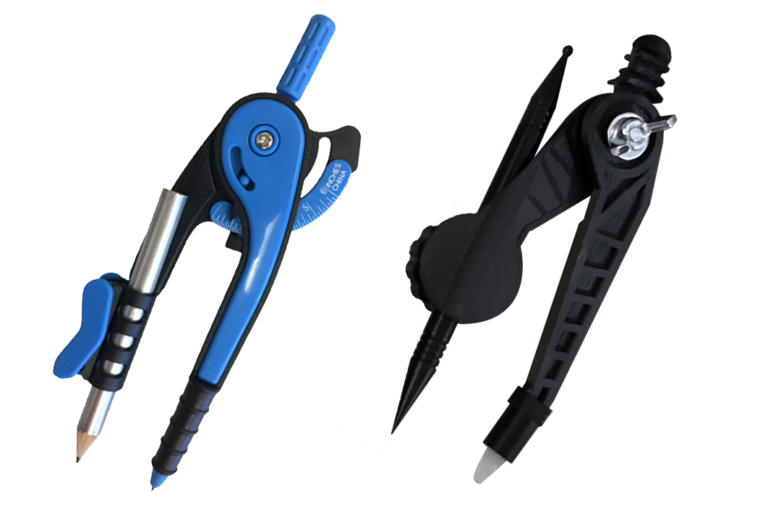 For most compasses on the market, the pointed end that is placed on the surface is too sharp to interact with the board below. Another issue is that conventional compasses do not allow for changing out the drawing tool from the golf pencil that is normally used. In order to work properly with the Draftsman, the design needs to be functional with different tools and ensure the longevity of the drawing board itself. The photo below shows the result of a product that once existed for this purpose that is no longer manufactured. With the compass no longer available for purchase, the school had to find another route to make sure that their students could still do constructions and drawings just like their peers.


The New Design
While printing one of these compasses is of great help to its new owner, it couldn't be done without the assistance and design work of Meghan McHugh, Production Engineer at 3M in Menomonie, Wisconsin. Without the proper tools available on the market, Meghan was responsible for the creation of the compass plans to meet the needs of the school and its teachers. Meghan's design means that these types of compasses can be printed on demand so long as a willing printer is found. The compass is one example out of multiple designs geared toward health and education, and just goes to show what a little 3D modeling and ingenuity can do!
This project and others like it are one of many examples across the US that have been made to better the learning and experiences of those with visual impairments.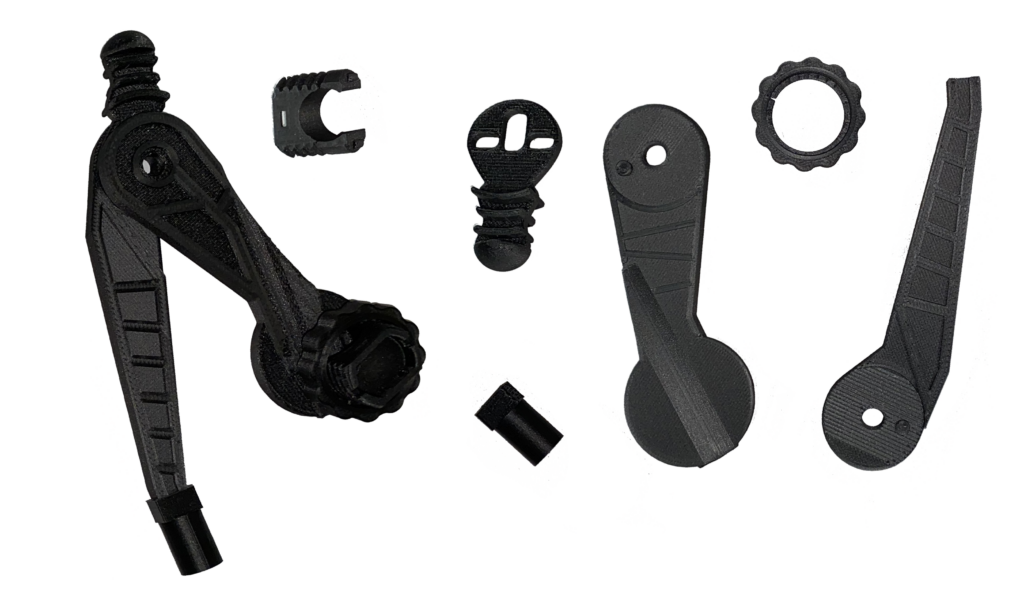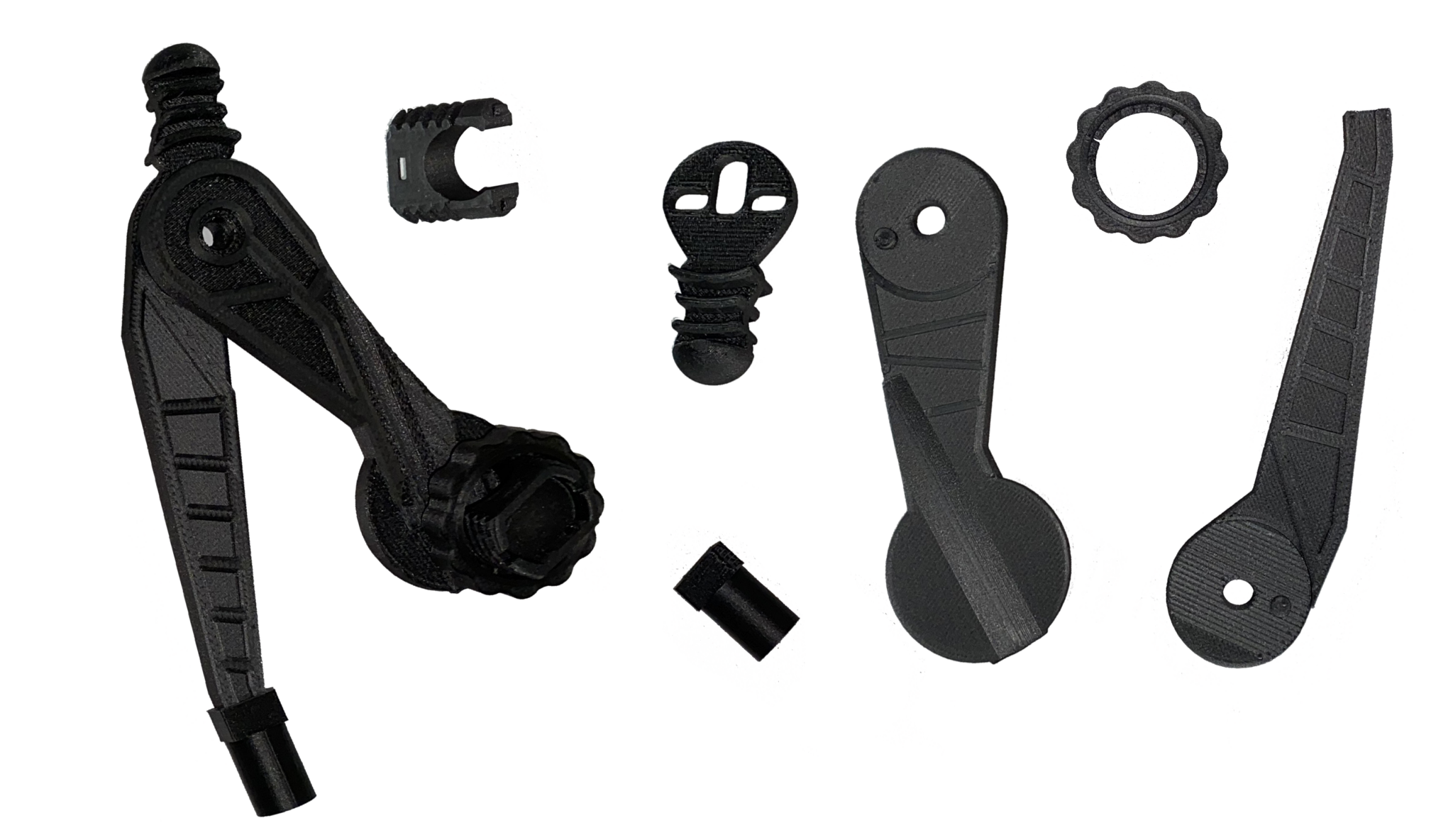 Building A Solution
Math Consultant Sara Larkin reached out to us after no luck with finding another printer, and a tight schedule on when the parts were needed. At our Cedar Rapids location, we have an array of eight 3D printers on standby to be able to produce a variety of orders at any given time.
While the compass for this order was originally intended to be built of the conventional ABS plastic, our systems use a composite plastic of Nylon and chopped Carbon Fiber which produces a superior part to ABS as far as strength and surface finish. Not only is it sleeker than ABS printing, but the difference is also a lighter-weight and remarkably durable build. Our parts are less prone to warping while printing and rugged enough to handle everyday use.
For this particular project, the first set was printed on a Mark Two printer and a second set was printed on the Onyx One. These printers are built from the ground up with quality in mind and are known to have products that are twice as strong as conventional plastics. The printing time per each set of prints was approximately 6 hours and 30 minutes with an additional 10 minutes for removing support material that is necessary for printing. For the hours spent printing, each compass set will be sturdy enough to last for years to come!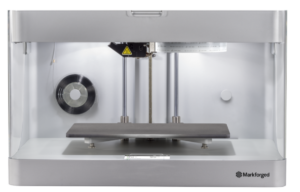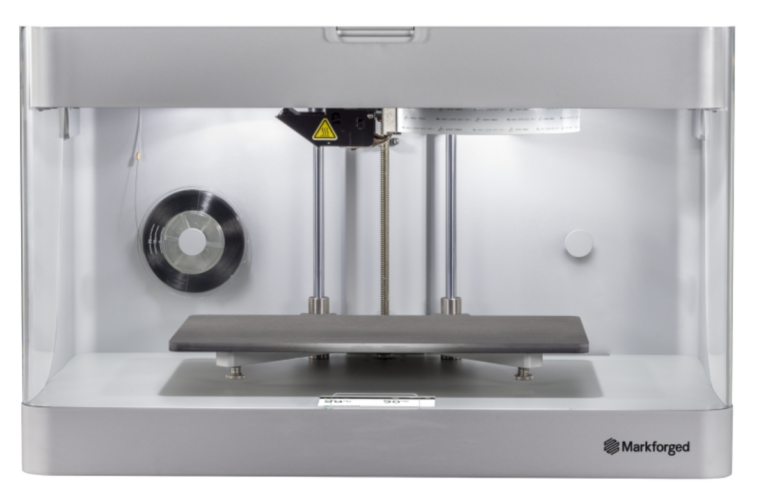 Let us print for you.
To see all of our 3D printing capabilities, check out our full portfolio for
3D Printing & Prototyping
, and check out the specifications for our equipment
here
.
Do you have a project in mind? Contact us online now
here
!